Harry and I recently went to Natural Bridge State Resort Park near Slade, KY, one of our favorite places to hike. Our spicebush (Lindera benzoin) is blooming (read last year's spicebush post), and I was pleased to find it scattered through the woods as well.
With all of our recent warm weather, plants are a good two weeks ahead of their usual schedules and there were plenty of signs of spring.
We saw several scarlet cup mushrooms (Sarcoscypha dudleyi) including these three nestled together.
I also discovered devil's urn mushrooms (Urnula craterium) for the first time.
We saw several butterflies, including a Mourning Cloak and an Eastern Tiger Swallowtail, but the only insect I was able to photograph was this impressive darkling beetle (Alobates sp.), that I met along the trail.
Note: After posting this, I had an email from my good friend Judy Burris, co-author of Life Cycles of Butterflies, suggesting my "darkling beetle" might in fact be a Bess beetle, (Odontotaenius disjunctus). I sent an ID request to BugGuide which confirmed Judy's information. Thanks, Judy. I appreciate.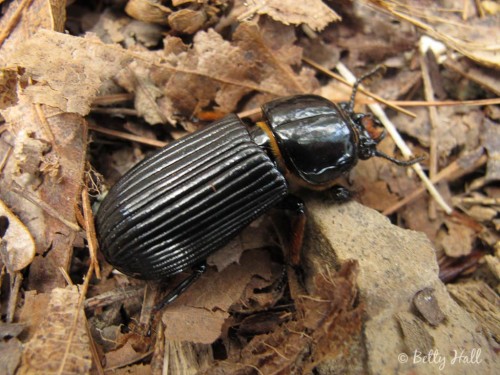 Wildflowers included anemones, bloodroot, spring beauties, and toothworts. However, I especially enjoyed the hepaticas (Hepatica acutiloba). Most of them were white but a few clumps were lavender, like this one that grabbed my attention.
Woods seem like enchanted places to me, full of mystery and magic and I totally enjoyed discovering the new signs of life. This was probably as much fun for me as an Easter Egg hunt is for children.