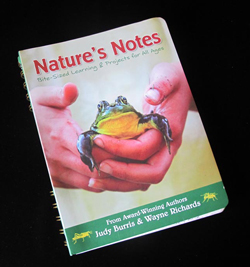 It was great to see Judy Burris and Wayne Richards at the Kids' Caterpillar Weekend at Natural Bridge State Resort Park. I always appreciate their lively, entertaining and educational presentations. I've thoroughly enjoyed reading their newest book, Nature's Notes: Bite-sized learning and projects for all ages.
I agree with this quote from a review by Carole Brown, "Nature's Notes is full of tips and projects to make learning about nature fun for kids of all ages. As an adult, you'll appreciate the stunning photography that fills these pages. You'll also get to know your own wildlife garden much better by using the tips in this delightful book."
After looking at Nature's Notes, our six-year-old friend Nancy proclaimed that she really liked the photos – "especially the tiny turtle." Another friend said, "Every household with kids needs a book like this." I agree. I'm inspired by Judy's and Wayne's photography and their ideas for exploring nature, and I'll be trying several of their suggestions in our backyard.
Judy and Wayne are a unique Kentucky sister-brother team. Their first book, Life Cycles of Butterflies, is one I wholeheartedly recommend for butterfly enthusiasts. I refer to my copy often. Their second book, Backyard Bugs, documents the life cycles of more than 40 common insects. I have found the many photographs and easy-to-read text quite helpful. These books are available locally and online, and make great gifts for kids of all ages.
I appreciate all that Judy and Wayne are doing to encourage a deeper understanding of and greater appreciation for our natural world, and I'm glad they are in Kentucky.