My husband, Harry, was working in the backyard and called my attention to an interesting insect he had discovered. It was a Wheel Bug (Arilus cristatus) and the unique spiky wheel-like formation on its back is the source of its common name.
According to Bug Guide, it feeds on caterpillars and other insects and is considered beneficial. Its beak is used to pierce its prey and suck out the juices. The beak can also inflict a painful bite, so I kept my distance.
Here it is feeding on a Common Pillbug (Armadillidium vulgare). In some ways this seems rather gross and yet, is it all that different from me sucking orange juice through a straw?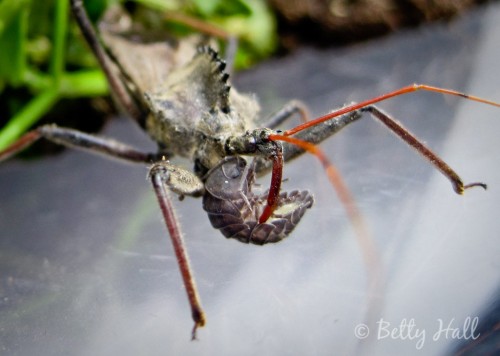 Although this bug is only 1½ inches long, it reminds me of a miniature prehistoric animal.
I'm glad to know it's part of our backyard "zoo" and am pleased to add it to our insect list. I'm afraid backyard insects will now be scarce until spring. If you see any, I'd be glad to hear about it.