We enjoy our backyard birds year round. This is especially true in the winter when there's not a lot else going on. Since late November we've been enjoying a pair of red-breasted nuthatches (Sitta canadensis), the first time I remember seeing these birds.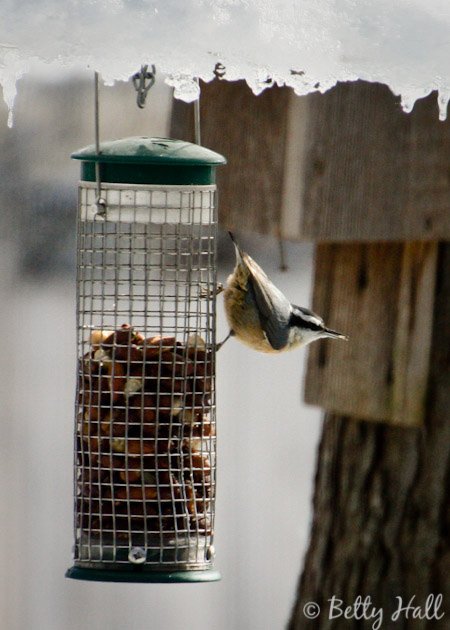 It's fun to watch them, although I have to look fast because they move quickly. They seem to especially enjoy our nut feeder. They also grab a sunflower seed now and then and search for insects along the trunks and large branches of our silver maple (Acer saccharinum).
In spite of their name, their breasts are more cinnamon or light-orange rather than red, a contrast to the white-breasted nuthatches which are more common. The black eye stripe is also distinctive.
According to Wikipedia, these nuthatches "are often year-round residents in coniferous forests across Canada, Alaska and the northeastern and western United States." However, at times they migrate south for the winter, apparently in search of food, which probably explains why we have them in the backyard this year.
We're glad for all our birds and the red-breasted nuthatches are an extra treat this year. Is anyone else seeing these birds?