It's October and I'm still enjoying butterflies in the backyard.
The New England Aster (Aster novae-angliae) has recently been a magnet for butterflies and bees. It was great fun this past Saturday to observe bumble bees (large, medium, and small), honey bees, and butterflies including cabbage, pearl crescent, and several different skippers. I also managed to capture these images.
I see Orange Sulphurs (Colias eurytheme) fairly often and enjoy their bright spots of color.
Gray Hairstreaks (Strymon melinus) are less common and seeing them is a special treat.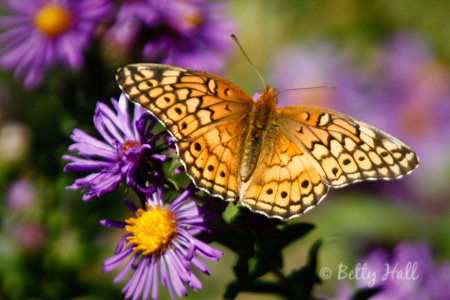 I was especially glad to see a variegated fritillary (Euptoieta claudia) for the first time this year.
Since Saturday, daytime temperatures have dropped to the 50s and 60s. Was this my last backyard butterfly show of the year? If so, it was a good one.