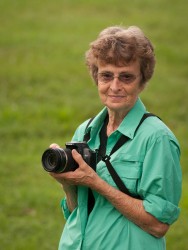 I grew up on a small family farm in the Missouri Ozarks. As far back as I can remember, I have enjoyed nature – being in or near fields, woods, ponds, and streams – and been intrigued by wildlife. I'm grateful to share this interest with my husband, Harry, and our two grown children.
After retiring from teaching, I got my first 35 mm camera for the primary purpose of capturing some of what I saw when Harry and I were hiking. I now use a digital camera and appreciate the way it helps me view the world differently.
In 2005, I became interested in butterflies and wanted to observe and photograph them – ideally in our backyard. As a result, we re-landscaped our backyard – primarily with Kentucky native trees, shrubs and perennials that would attract birds and butterflies.
My current focus
It's great fun to watch the goings and comings in the backyard. We now see a greater number and variety of birds – our current total is 58 different species. We also have more butterflies – I've photographed 31 different species so far. I'm having fun learning more about our many insect visitors, most of them beneficial and many of them beautiful. I've also developed an interest in our backyard moths and want to learn more about these night visitors.
I enjoy spending time in our backyard with a camera, and my weekly blog posts focus on my observations. The blog also helps me keep track of what happens in the garden, and share the backyard with others.
I am convinced that even small changes we make in our suburban yards can make a big difference for birds, butterflies, and other wildlife, and can create a healthier environment. I'd like our backyard, my blog, and this website to be a resource for others with similar interests. I hope my photos convey the sense of wonder I often feel, and portray how extraordinary the ordinary can be.